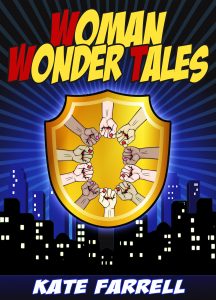 The appeal of superheroes. The lure of fairy tales. The precarious predicament of modern women.
It's time for WOMEN WONDER TALES to entertain and empower!
Read three in the series on Wattpad!
Ten wonder women resolve everyday challenges by entering the world of fairy tales, myths, and fantasy to return empowered.
Entertaining and engaging, each of these twelve, fabulist stories contains compelling action scenes with captivating storytelling.
"Kate Farrell writes with a unique storytelling voice that lets readers immerse themselves in the most tumultuous, magical tales as she skillfully guides them through, manipulating the rhythms of language to create an evocative yet nostalgic experience."
~Nicole Ayers
THE STORIES: SYNOPSIS
In a large metropolitan area live ten young women, ages 18-25, who face the daily challenges of modern society: repression, sexism, male dominance, objectification and unachievable standards of beauty, domestic violence, conflicted expectations, and competition. How each one of them confronts these challenges in another dimension makes them wonder women, and their stories wonder tales for our time.
You will meet each young woman in her own story, until they are mysteriously drawn together to form a sisterhood and take on a mission and a quest that will save our planet and themselves.
To read Women Wonder Tales, click HERE!