Kate Farrell, Author, Librarian, Storyteller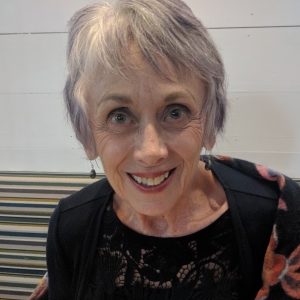 Kate Farrell believes in the power of story and of the story motifs from the oral tradition: Their enduring appeal continues to shape and influence culture.
The success of films like Wonder Woman demonstrates the yearning of girls and young women to find a new tradition of stories that express female power and sisterhood.
Kate Farrell is a graduate of the School of Library and Information Studies, UC Berkeley. She has been a language arts classroom teacher (pre-school and grades kindergarten through 12th), author, librarian, university lecturer, and storyteller in Northern California since 1966.
She founded the Word Weaving Storytelling Project, in collaboration with the California State Department of Education funded by grants from Zellerbach Family Fund, San Francisco, 1979-1991, to train educators at all levels, and published numerous educational materials.
She is co-author of a monograph, Effects of Storytelling: An Ancient Art for Modern Classrooms, 1982; author of Word Weaving: A Teaching Sourcebook, 1984; producer and co-author of a training videotape, "Word Weaving: The Art of Storytelling," 1983, distributed by the University of California, Berkeley; and author of the professional book, Storytelling: A Guide for Teachers, Scholastic, 1991. She is also senior author of Storytelling in Our Multicultural World, an oral language development program for early childhood education, published by Zaner-Bloser Educational Publishers, 1994.
Farrell edited the anthology, Wisdom Has a Voice: Every Daughter's Memories of Mother, 2011. She is co-editor of the anthology, Times They Were A-Changing: Women Remember the '60s & 70s, 2013—Finalist for Foreword Reviews 2014 Book of the Year Award and 2014 Indie Excellence Award.
Farrell is co-editor for the anthology, Cry of the Nightbird: Writers Against Domestic Violence, 2014–Finalist for the 2015 Next Generation Indie Book Award and the 2015 Indie Excellence Award.
Farrell has just released a novella, Strange Beauty, on Smashwords.
Check out her new Storytelling for Everyone project!
She is Immediate Past President of the San Francisco Chapter of the Women's National Book Association, and Member, Advisory Board,Youth Event Manager and Presenter for San Francisco Writers Conference, Member of California Writers Club.
Kate lives in the Bay Area and recently retired as a teacher librarian from San Francisco Unified School District.
Wonder Tales is a Work in Progress